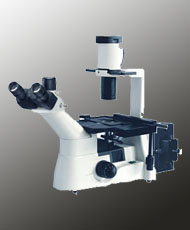 SAD3300PL Tribocular converted biological microscope

Model SAD3300 series
Inverted Biological Microscope with its excellent optical capability ,wide application, firm body frame and skillful figure design, meet the demands of biology, microbiology, histology immunology and iatrology, etc.
This inverted biological microscope provides excellent functions. High resolution and contrast long working distance objectives provide high qualityimage. High contrast Phase contrast objectives make the figure and configuration of the cells more clear .The long working distance condenser can contain higher vessels or samples.
The stable & reliable "T" type base, streamline figure design, simple and convenient operating system make your work easy and relax.
Trinocular head: Inclined at 45° (50mm-75mm)

Eyepieces:
10x high-eye point wide field, reticles and pointers available
Stage:
Double layers mechanical stage, 242mmx 172mm, Central stage: Φ110mm, Moving range: 115mm × 75mm
FOCUSING:
Coaxial coarse & fine focusing adjustment with rack and pinion mechanism Fine focusing scale Value 0.002mm
Filter:
Blue,green,yellow and froster glass
Light source:
Halogen bulb 12V/30W, adjustable brightness