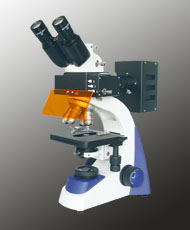 SA3300-HY2 Trinocular fluorescent microscope
Fluorescent microscope consists of SA3000 series biological microscopes illumination, 200W extra-high tension mercury lamp or 100W high tension mercury lamp,fluorescent objectives.
It can be used for medicine, biology, industry,farming,forestry, criminal investigation, legal medical expert evaluation, environmental protection and so on.

Specification
1. Total magnification:1600X
2. Plan objective:PL4x/0.1,PL10x/0.25,PL40x/0.65,PL100x/1.25(oil)
3. Wide field eyepiece: High eye point eyepiece 10X/WFH18 16X
4. Illumination device: Green and blue light blazing
5. Fluorescent power supply: 200V/200W EHT mercury lamp or 100w HT mercury lamp.

Working condition:
Voltage: AC220V (±10%),50HZ

Accessories:
Trinocular video or photograph device