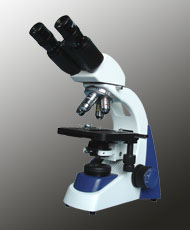 Brief introduction
SA3000 series
biological microscope was designed in German classical style and made in patent of Omai in Germany. The scientific designation of machine principle will provide you good feeling and comfortable operating environment.
View field vision provides user expend vision. This can not only reduce the tiredness of the eyes, but also protect the your eyes. Each eye tube has focusing diopter adjustment to compensate for the differential vision of two eyes.
Fine focusing adopted co-axial low position, hand touch comfortable, moving flexibly, easy to operate, human-mechanical stage moved freely and smoothly X-Y direction.
All optical parts were coated with advanced technics: multilayers, anti-glare, color correction, anti-fungal
Modern, smooth style, sharp,clear imaging and comfort, convenient operation makes your viewing comfort in mind
SA3000 Clinical Biological Microscope (CCIS)
Binocular head (45°、360°) with locking screw
Eyepieces: 10x high-eye point, wide field, reticles and pointer available. 16x wide field
Infinity Achromatic Objectives: 4x/0.1, 10x/0.25, 40x/0.65, 100x/1.25
Abbe Condenser with variable diaphragm and light filter: NA=1.25
Interpupillary distance adjustment: 52mm-75mm
Built-in graduated mechanical stage: 142mm×132mm/55mm×75mm
Nosepiece: 4 holes standard
85v-265v universal power supply halogen light source for consistent bright white light, 6v/20w 60Hz light adjustable
Focusing: Extra-large graduated coaxial coarse and fine focus controls